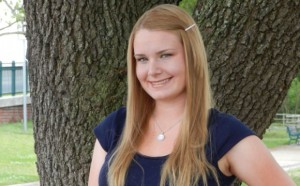 Amber Nicole Herman Receives Four Year Scholarship
The New Bern Historical Society presented its Marks Scholarship for 2014 to New Bern High School senior Amber Nicole Herman at the New Bern Historical Society's annual Awards Banquet.  The award was presented by John Leys, Historian for the New Bern Historical Society and member of the Scholarship Committee.
Miss Herman, daughter of Charles Herman of New Bern is a graduating senior at New Bern High School where she has been a member of the National Honor Society for both her junior and senior years. She is also a member of the Health Occupation Students of America and will attend East Carolina University this fall majoring in Nursing. She has been an active member of her church and youth group and served on a mission trip to New York City to work with the homeless.
The Marks Scholarship was established by a trust estate created in 1968 under the terms of the will of Miss Harriet Marks as a memorial to the O. Marks family (for which the downtown building is named). The scholarship goes to a senior graduating from New Bern High School for the purpose of obtaining higher education at an accredited college, university, or institution of higher learning. It can be used for tuition, board or lodging. Renewable for three succeeding years as long as academic standards are maintained, the scholarship provides financial assistance to a deserving senior based on scholarship and service to community and school. The Marks Scholarship furthers the Historical Society's mission "to celebrate and promote New Bern and its heritage through events and education."
Submitted by: Kathy Morrison, New Bern Historical Society