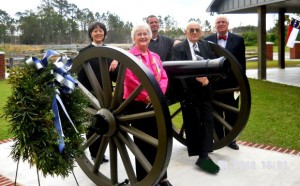 Projects underway following Campaign
The New Bern Historical Society will dedicate the Visitor Center at the New Bern Battlefield Park on Sunday, June 8, 2014 to Dr. Richard K. and Linda C. Lore. The public is invited as we honor Linda Lore an avid supporter of the Society's educational mission, and long time New Bern Historical Society Historian and Civil War enthusiast, the late Dr. Richard K. Lore.  Dr. Lore served the Historical Society for many years as Historian, and edited the Society's Journal.  He was a leader in the acquisition and establishment of the Battlefield Park.  The dedication will be held at 2pm on Sunday, June 8th , with light refreshments to follow.  The Battlefield entrance is on the left just after you enter Taberna from Route 70.
The New Bern Historical Society's recent Investment in History campaign received contributions of more than $450,000 to benefit both of its properties, the Battlefield Park and  Attmore-Oliver Campus, through the generous support of members of the New Bern community .  An expanded History Walk project at the Battlefield Park with an orientation plaza, trail interpretive panels, and an area of special interest to children and families will soon be underway, giving visitors an understanding of what happened at the Civil War Battle of New Bern.  Additional interpretive panels at the Visitor Center will explain how the lives of the people of New Bern, North Carolina, and the nation were changed in the aftermath of the battle.
Society President, Nelson McDaniel, is very excited about the upcoming projects.  "The New Bern Historical Society works to share our remarkable history with all people.  This endeavor continues to be possible because of the overwhelming generosity of many, as we've seen in the results of the Investment in History campaign.  We want to thank all of those who participated in this campaign, chaired by Nat Baggett and Jim Morrison, and in the previous Battlefield Regimental campaign.  Their gifts make it possible for us to continue to 'celebrate and promote New Bern and its history through events and education', as our mission statement reminds us."
Submitted by: Kathy Morrison, New Bern Historical Society