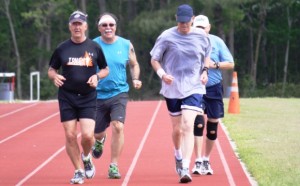 2014 Games Scheduled for Next Week
Athletes ages 50 to 101 years will participate in this year's Neuse River Senior Games (NRSG) and Silver Arts Competition. The Opening Ceremony will be Wednesday, April 23 at 11:30 a.m. at the West New Bern Recreation Gymnasium on Pine Tree Drive. This year's keynote speaker is Brad Allen, Director for North Carolina Senior Games. Brian North, WCTI-12/FOX Eastern Carolina will serve as Master of Ceremonies.
For 2014, NRSG lowered the age limit for adults 50 years and better. Nearly 315 athletes are registered to compete in the games, the highest amount in its 29 years of celebrating health promotion and fitness. Ninety-three of those registrants are first time senior games athletes. One athlete is 101 years young and plans to participate in the softball throw.
Athletes compete against others in the same age and gender categories in a variety of events that include: bowling, swimming, horseshoes, cycling, track and field, croquet, bocce, shuffleboard, miniature golf, and many others. This year, several individuals have registered for the newest game called Pickleball. The games end on May 2.
The Silver Arts Competition will be April 23-25. This component of the games celebrates Performing Arts that include: vocal, comedy, drama, dance, and instrumental categories; Heritage Crafts such as basket weaving, quilting, and wood turning; Visual Arts such as drawing, painting, and photography; and Literary Arts such as poetry, short stories, and essays.
The Neuse River Senior Games encompasses six counties including Craven, Duplin, Greene, Jones, Lenoir, and Pamlico. Qualifiers in the local games may go to the North Carolina Senior Games (NCSG) Finals held every fall in Raleigh. Every other year, participants who qualify at the State Games may continue on to the National Senior Games.
For more information contact Johanne Pryor, NRSG Coordinator, at 252.745.5252 or Billy Wilkes, Events Director, at Craven County Parks and Recreation, 252.636.6606. To access a NRSG schedule of events, visit http://cravencounty.recdesk.com/recdeskportal/. North Carolina Senior Games information, including sports rules, is available at www.ncseniorgames.org. NRSG is sanctioned by North Carolina Senior Games and is sponsored by the North Carolina Division of Health and Adult Services.
Submitted by: Jillian Hardin, Human Services Planner, Eastern Carolina Council
Area Agency on Aging