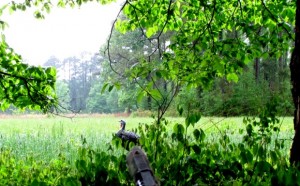 With Wild Turkey Hunting Season upon us, what better time is it to learn about the National Wild Turkey Federation (NWTF)? Did you know that we have a local NWTF Chapter?
We wanted to learn more about the organization so Laura Johnson interviewed Carl Dixon of the Neuse Chapter of the NWTF to find out more about their important conservation efforts. The interview is airing on New Bern's News Talk Radio, WNOS 97.1FM and 1450AM:
"The Turkey Federation was founded in 1976. During the early years, they had a target 2000 restoration period in which all 100 counties in North Carolina were stocked with wild turkeys".
"The new ten year plan is called Save the Habitat, Save the Hunt. The initiative is a conservation and habitat improvements preservation of hunting heritage".
Their goal is to "raise $300,000 for conservation of wildlife habitat improvement and purchase 60,000 acres of land through cooperative partnerships which will be turned over to the Wildlife Resources Game Lands Program for public hunting opportunities".
Another goal is "introducing new hunters to the outdoors for continued support of our conservation efforts".
The NWTF "is not only composed of turkey hunters, but also the programs that we initiate is trying to get people more adapted to the outdoors and being in the outdoors and the use of what is God given".
Here's a list of the NWTF programs by visiting the following links:
JAKES/Xtreme JAKES, Wheelin' Sportsmen, Women in the Outdoors, and Turkey Hunters Care.
They also offer Scholarship Funding at Local, State and National Levels.
"We are a conservation organization and the World's number one success story in Wildlife restoration".
For more information about the Neuse Chapter of the National Wild Turkey Federation, please call Carl Dixon at 252-671-2242.
Tell us what you think by commenting below or sending us an email. Visit New Bern Now's Facebook page or sign up for the latest updates by submitting your email address in the right margin on New Bern Now's website.
Wendy Card