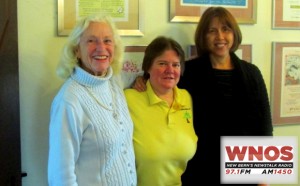 Friday, April 11- Saturday, April 12, 2014
10 a.m. – 4 p.m.
Laura Johnson met with Lynne Harakal, Executive Director of the New Bern Historical Society and Carolyn Peterson, Executive Director of the New Bern Preservation Foundation to learn more about the upcoming Spring Historic Homes & Garden Tour. Listen to Laura's radio interview with Lynne and Carolina on New Bern's News Talk Radio WNOS 97.1FM and 1450AM and here:
On April 11 and 12, homeowners will open their doors so the public can visit some of the most beautiful and interesting homes in New Bern's historic district. The 2014 Spring Historic Homes & Gardens Tour will provide a behind-the-scenes look at homes and gardens that are important to our town's past and present.  Patrons will tour the living quarters of these homes, learning about the original architecture, renovations, and furnishings. In addition to the homes and gardens, many downtown houses of worship will be open for tours.
Among the gardens open to the public are the gardens at Tryon Palace, which should be in full bloom. Tryon Palace's Annual Heritage Plant Sale will also be held on the Palace grounds during the tour. That weekend, Spring Homes Tour ticket holders will have the opportunity to purchase discounted admission passes to Tryon Palace/NC History Center.
Be sure to grab a homemade bagged lunch to go or enjoy it in a quaint porch setting at the Blades' Veranda Cafe. Bagged lunches are a $8 donation and include a sandwich, and beverage.
Coffee, tea, and delicious baked goods will be available throughout the day across the street from the cafe at Peterson's Porch. A hospitality station also will be available to patrons on the grounds of the Attmore-Oliver House, 511 Broad Street..
Tickets are $16 in advance, $20 day of the tour and $14 for active duty military and dependents with ID. If ordering an active duty military or dependent ticket you must pick up your ticket at the Historic Society office, 511 Broad St. There is also a special rate of $14 for groups of 12 or more. Tickets go on sale March 3. Tickets are good for both tour days, 10:00 am to 4:00 pm.
To purchase your tickets:
Telephone New Bern Historical Society 252-638-8558
Order through PayPal at www.newbernhistorical.org
Or go to any of the following locations in New Bern:
New Bern Historical Society, 511 Broad Street
New Bern Preservation Foundation, 510B Pollock St.
Harris Teeter, 2019 S. Glenburnie Rd.
Bank of the Arts, 317 Middle St.
Carolina Creations, 317 Pollock St.
Mitchell Hardware, 215 Craven St.
New Bern Riverfront Convention Center, 203 S. Front St
The Spring Historic Homes & Gardens Tour is a collaborative event presented by the New Bern Historical Society and the New Bern Preservation Foundation and is a major fundraising event for these non-profit organizations.
Celebrate spring in New Bern!
Submitted by: Kathy Morrison on behalf of the New Bern Historical Society and