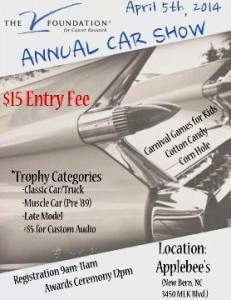 On March 6th, the New Bern Applebee's kicked off its 8th annual March Hoops Fundraiser in support of The V Foundation for Cancer Research. I am proud to be part of an organization that supports The V Foundation and am writing this letter to ask for your help and participation.
The V Foundation for Cancer Research was established in 1993 by ESPN and the late NC State basketball coach Jim Valvano. Jim led the 'Pack' to a National Title in 1983 in what was perhaps the greatest "Cinderella story" in the history of the tournament. Jim was diagnosed with cancer several years later, and chose to use the time he was given to champion the cause of cancer research, making famous the courageous words, "Don't give up. Don't ever give up."
Our Applebee's location is owned and operated by the Apple Gold Group, who owns a total of 52 Applebee's locations across North Carolina. As a company, we have a goal to surpass $1,000,000 this year for cancer research. Our restaurant goal is to raise at least $2,000 and we are asking our neighbors to help us become the top V Foundation fundraiser in North Carolina!
Our plan is to host a couple of charitable events in the next couple weeks to raise the money we need for The V Foundation. On March 29th from 9 am to 12 pm, we will be having a free car wash in the parking lot of the Applebee's here in New Bern. All donations will be going to The V Foundation. The following Saturday, April 5th, also from 9 am to 12 pm, we will be hosting a car show/carnival. There is a small entry fee for the car show of $15 and an extra $5 for custom audio with several categories for awards. The carnival will include things such as a dunk tank, cornhole and face painting!
Every little bit of help counts and all of the time and energy put in to this is for a fantastic cause.
If you have any questions, please feel free to contact Patrick Ingram at the New Bern Applebee's by calling 252-637-8050 or via e-mail at newbern325@applegoldgroup.com
Submitted by: Janay Wachter on behalf of The V Foundation for Cancer Research