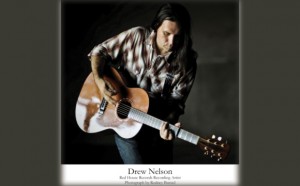 Friday, April 11 –  Trent River Coffee Company, New Bern
Friday, April 12  –  Clawson's Restaurant, Beaufort
Listen to Laura Johnson's audio about this event aired on New Bern's News Talk Radio ENC's WNOS 97.1FM and 1450AM and here:
Michigan-born Navy veteran Drew Nelson is a storytelling songwriter and multi-instrumentalist.
His songs are a witness to the lives and personal journeys of those he has met in his world travels, mixing roots rock and Americana with traditional folk styles.
Drew has toured across North America and Europe, and has opened for the likes of Melissa Etheridge and Edwin McCain.  From rocking rhythms to sensitive ballads, Drew draws in the audience with his evocative performances and leaves 'em wanting more!
Tickets are $15, $12, and $8, and can be purchased at Trent River Coffee Company, Bank of the Arts New Bern, or by calling or texting 252-646-4657 to reserve. Visit www.downeastfolkarts.org for more information.
Submitted by: Linda McGowen, Down East FolkArts Society