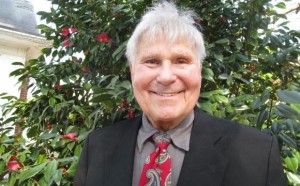 Stuart Aronson discusses how he brought the infamous pirate to life
Actor, singer, professor, and playwright Stuart Aronson will discuss how he came to breathe life into the infamous Blackbeard, the pirate.  Aronson will share the inspiration behind his outdoor drama, "Blackbeard, Knight of the Black Flag", and his research including the Blackbeard experts who advised him.  He'll also entertain with readings from scenes of "Blackbeard, Knight of the Black Flag".
Aronson has been an entertainer for years. His career started early as a child radio and television star, appearing in early soap operas such as "Ma Perkins" and serials like "Captain Midnight", "Terry and the Pirates", and "Tom Mix".  In 1947 he co-starred in a radio drama with an up and coming actor named Myron Wallace.  Mr. Wallace later changed his first name to Mike, and you know the rest of the story.  After an early career in both radio and television, Stuart obtained his undergraduate degree at Northwestern University in drama, and studied singing with the great operatic diva Rosa Raisa. He made his operatic debut with Chicago's Pavanne Opera Theatre. He moved to Europe in 1960 where he performed opera in Italy, France, Germany and Israel.  Upon his return to the United States he completed his master's degree in theatre arts at American University and moved to Greenville, NC, where he taught speech and drama at ECU for 20 years.  In l977 he wrote the outdoor drama, "Blackbeard, Knight of the Black Flag", which ran in Bath, NC for twelve summers.   He also wrote and directed "Blackbeard's Revenge", which was performed for two summers at the Crystal Coast Amphitheatre.
Lunch and Learn is at The Chelsea Restaurant, 11:30 am Wednesday, May 7, 2014. Tickets are $16 for Historical Society members and $18 for non-members; lunch is included. Tickets must be purchased in advance by calling the New Bern Historical Society at 252-638-8558.  Lunch choices are Taco Salad: southwestern ground beef, mixed greens, sliced jalapenos, cucumbers and tomatoes in a crisp tortilla bowl with cheddar-jack cheese and sour cream, or Salmon Brie Pasta: poached salmon, bacon, tomatoes, and green onions tossed with gemelli pasta and garlic Brie cream sauce.
Join The New Bern Historical Society and Stuart Aronson for lunch, and learn about our region's most famous pirate from a fascinating entertainer.
Submitted by: Kathy Morrison, New Bern Historical Society