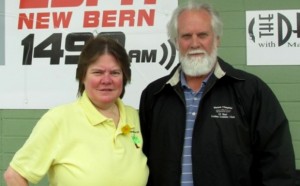 Our friend Howard Carrier told us about the upcoming Annual Banquet for the National Wild Turkey Federation (NWTF) and we wanted to learn more!
Laura Johnson interviewed Carl Dixon, Neuse Chapter of the NWTF to find out more about this special event. The interview is airing on New Bern's News Talk Radio, WNOS 97.1FM and 1450AM:
Have a good time while supporting Wild Turkey conservation on March 21st! Doors open at 6pm at the New Bern Riverfront Convention Center.
Get your tickets today by calling Curtis Priest at 252-229-0994 or Carl Dixon at 252-671-2242.
Learn more about NWTF programs by visiting the following links
JAKES/Xtreme JAKES,  Wheelin' Sportsmen,  Women in the Outdoors.
Stay tuned for more information about the Neuse Chapter of the National Wild Turkey Federation!
Tell us what you think by commenting below or sending us an email. Visit New Bern Now's Facebook page or sign up for the latest updates by submitting your email address in the right margin on New Bern Now's website.
Wendy Card