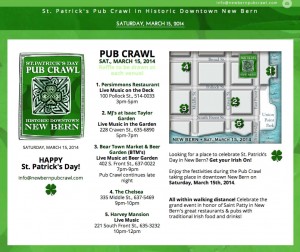 Looking for a place to celebrate St. Patrick's Day in New Bern?
Get your Irish On! 
Enjoy the festivities during the Pub Crawl taking place in downtown New Bern on Saturday, March 15th, 2014.  
All within walking distance! 
Celebrate the grand event in honor of Saint Patty in New Bern's great restaurants & pubs with live music, traditional Irish food and drinks!
Raffle to be drawn at each venue! HAPPY St. Patrick's Day! 
Visit http://www.newbernpubcrawl.com for details and map.
 1. Persimmons Restaurant
Live Music on the Deck
100 Pollock St., 514-0033
3pm-5pm
4. The Chelsea 
335 Middle St., 637-5469
9pm-10pm