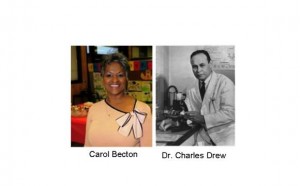 February Lunch and Learn for Historical Society
Did you know that Dr. Charles Drew's system for the storing of blood plasma (blood bank) revolutionized the medical profession? Did you know Dr. Drew also established the first American Red Cross blood bank, of which he was the first director, and he organized the world's first blood bank drive?  Learn more about Dr. Drew and other innovative African Americans as Carol Becton presents "African American Inventors" at the New Bern Historical Society's Lunch and Learn on Wednesday, February 12, 2014, 11:30 am at The Chelsea Restaurant.
Mrs. Becton attended North Carolina Central University, East Carolina University, and Undenominational Bible Institute.  She worked in the Craven County school system for 34 years retiring as principal of Trent Park Elementary in 2008. Carol was married to the late Capt. James E. Becton of the New Bern Police Department for 34 years and has three children: J'vanete, Shade', and Devin; and two grandchildren. She is a native of New Bern.
Carol is on the Board of Directors of the New Bern Historical Society, and has served many other organizations. She was appointed to the Board of Commissioners of New Bern's Housing Authority in 2012. As an active member of Theta Beta Omega chapter of Alpha Kappa Alpha sorority and The Climbers Club of New Bern, Carol serves as chaplain to both organizations.   Among her other civic activities are: Craven Regional Library Board of Trustees, Craven County Arts Council, Uptown Business Association, and the 300th Anniversary Committee.
Lunch and Learn is at The Chelsea Restaurant, 11:30 am Wednesday, February12, 2014. Tickets are $16 for Historical Society members and $18 for non-members; lunch is included. Tickets must be purchased in advance by calling the New Bern Historical Society at 252-638-8558.  Lunch choices are: New Orleans Shrimp Pasta,  shrimp, sausage, mushrooms, tomatoes and scallions tossed with Cajun cream and Gemelli pasta, topped with cheddar-jack cheese; or, Meat Loaf, seasoned ground beef mixed with herbal bread crumbs and blend of cheeses, sliced, grilled, and served over fries with gravy and seasonal vegetable.  Call the New Bern Historical Society for information. 252-638-8558.
Submitted by: Kathy Morrison, New Bern Historical Society, 511 Broad Street, New Bern