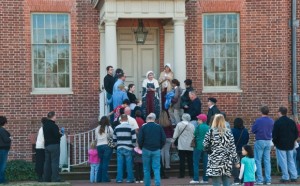 Free Tours, Activities, Discounted Tickets to History Center Available Saturday, Feb. 1
Tryon Palace will offer free admittance to all visitors during "Free Day: Forget Me Not," held Saturday, Feb. 1. Free Day invites the public to enjoy a full day of guided tours, hands-on activities, crafts and discounted admission to exhibits inside the North Carolina History Center.
Free Day includes first-floor tours of the Governor's Palace and the Kitchen Office, access to three historic homes and admission to all the Palace gardens. Additional free activities, such as hands-on crafts, lectures and quilting demonstrations, will be held inside the North Carolina History Center. Discounted admission will also be available to those interested in visiting the North Carolina History Center's interactive exhibits, which include the Regional History Museum, Pepsi Family Center, and the traveling exhibit, "Blackbeard's Queen Anne's Revenge 1718."  The reduced ticket price will be $10 for adults and $4 for youth (grades 1-12). As always, admission is free for children in kindergarten and younger.
In addition to free admission to the historic site, visitors will find that most activities held during "Free Day: Forget Me Not" have been inspired by the different ways people remember and commemorate their own history.
Drawing inspiration from Free Day's "Forget Me Not" theme, Tryon Palace is offering its visitors a rare opportunity to dress in historic clothing and have their picture taken. Photos will be taken in Mattocks Hall and for a nominal donation visitors will be able walk away with their very own 19th-century Carte de Visite-inspired photograph.
Two free lectures will be held inside Cullman Performance Hall, beginning at 10 a.m. with Victor T. Jones, Jr., Department Head of the New Bern-Craven County Public Library's Kellenberger Room. Jones' lecture promises invaluable insight and tips for anyone interested in genealogical research and the discovery of personal genealogy. A second lecture by Rebecca Arthur, adjunct instructor of American history for Liberty University Online, will follow at 2 p.m. Her lecture, entitled "Filling in the Blanks: Rediscovering 'Lost' History," will delve into "lost" pieces of our history and explore how historical research, living history museums and archaeology can help rediscover them.
Free Day is made possible thanks to a generous donation from the Harold H. Bate Foundation.
For additional information, please contact Tryon Palace at 252-639-3500 or visitwww.tryonpalace.org.
Submitted by: Craig Ramey, Marketing and Communications, Manager, Tryon Palace
.