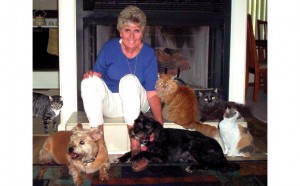 I am frequently asked what is the best brand of dog food to feed my pet?  My assumption is that just like in people food, we should choose the best that we can afford.  What is the computer saying – "garbage in is garbage out."  The better quality will help keep our pets healthy and active as long as possible.  If you want to check out the recommended brands, go to www.consumerresearch.com for a list of the brands that they consider the best quality for the money.
Make sure that your brand of food has AAFCO certification to make sure it meets the basic requirements for vitamins and trace minerals.
What to look for in dry pet food:
Meat is number one.  Dogs are carnivores and they thrive on a diet based on meat.  They cannot handle carbohydrates.  Grains are added to pet food because they are cheaper than meat and they hold the kibbled bits together.  Look for whole food sources at the top of the list of ingredients such as beef, turkey, lamb or chicken – one word descriptions.  Avoid any formula that uses non-specific ingredients such as "meat", "poultry", etc.
The next ingredient of better quality food should be a meat source followed by the word "meal" such as "chicken meal" or "turkey meal."  This is considered a good source of protein.
Ingredients three and four should be vegetables (avoid corn, wheat or beet pulp).  A grain free brand is recommended.  But brown rice and organic grains are preferable where grains are included.  Whole fruits are also good especially if they replace grains.
A real no-no is any food containing corn or soy in any form.  They are cheap fillers but are non-nutritious and a known allergenic.
The next no-no is by-products – especially where the meat is undetermined.  Meat by-products contain parts of beaks, feathers, hooves, hair and even tumors which is all ground up together.  Avoid artificial colors, flavors, sweeteners and preservatives.
A healthy diet for your dog includes: high-quality protein (meat), moderate levels of animal fat, high levels of EPA/DHA, high moisture content (prey is 7% water), a few fresh vegetables and a bit of fruit, no grains and no potatoes or other starches to offset meat content
What should you look for in canned dog food – If the label says "Lamb for Dogs" the product must contain at least 95% lamb.  If it says "Lamb Dinner for Dogs" the term dinner, entrée or formula can only be applied to products that contain 25% of the listed ingredient.  If it says "Dog food with Lamb" – it only needs to contain 3% of the referenced ingredient.  Last "Lamb Flavoring" means that Lamb was detected in testing but no particular percentage was mandated.
These standards are set by the Association of American Feed Control Officials (AAFCO).  I obtained this information from www.vetdepot.com and www.healthypets.mercola.com.
You should also consider these standards in choosing a doggie treat.  There are some treats that do not contain grains – more expensive but my dogs love them and they are healthy.  Also be wary of any treats from China.  They do not have the same standards as ours.  My dogs also love raw vegetables – especially carrots, zucchini, the ends of broccoli, and apples with the skin.  No grapes, cherries or smaller fruits that they can choke on.  It is fun to experiment.
Of course, we all know that people food other than raw vegetables is not good for our canine friends.  It is hard to resist their begging eyes but it is best to not give in and start bad habits.
Remember to spay/neuter your pet, adopt from a rescue group or the shelter rather than buying from a breeder or puppy mill, train your dog, take it for daily walks, play ball often and give lots of hugs and praise for all the good they bring into your life.
Next month I will research and write on cat food although I am sure that the standards are pretty much the same.
Submitted by: Bonnie Compton at Pals for Paws