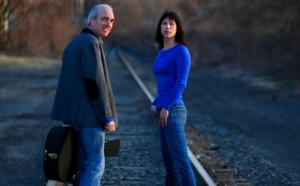 Friday, March 14 – Trent River Coffee Company, New Bern
Saturday, March 15 – Clawson's Restaurant, Beaufort
He's from Berkeley, she's from Woodstock. They met in college where he was a guitar playing geologist and she was an engineer. Together Aidan Quinn and Christine Stay make a formidable team with a yin and yang approach to music and lyrics, melody and harmonies.
Friction Farm's sound is built around Aidan's confident guitar stylings and Christine's bass backbeat, but the band's strong point is its intricate harmonies which are reminiscent of 60's classics with a modern twist.
This is East meets West, resulting in a duo showcasing the best of each!
Tickets are $15, $12, and $8, and may be purchased at the venues, at Bank of the Arts in New Bern, or by calling or texting 252-646-4657.
Visit www.downeastfolkarts.org for more information.
Submitted by: Linda McGowen, Down East FolkArts Society