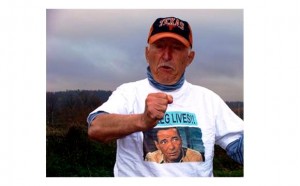 Ed Bearss to Appear for 8th Consecutive Year
An American treasure, Civil War historian Ed Bearss will again appear in New Bern on Sunday, January 12, 2014.  His eighth annual presentation will be Lincoln and His Generals, Their Relationships and Issues.  As we are in the midst of the Civil War's 150th anniversary this topic is very relevant, and Bearss will provide great insight into this subject in his unique manner. Held at 2 pm at Christ Church Ministry Center, the lecture will be a donation of $10 with all proceeds going to support the New Bern Battlefield Park.
Ed Bearss is a United States Marine Corps veteran of World War II, a military historian, an author known for his work on the American Civil War and World War II eras, and a popular tour guide of historic battlefields. He served as Chief Historian of the National Park Service from 1981 to 1994 and is now Chief Historian Emeritus.
He continues to share his vast knowledge. Civil War students clamor to hear him speak.  At 90, Bearss leads numerous tours—traveling as many as 200 days per year—around the United States, the Pacific, and Europe.  Don't miss the opportunity to hear this amazing man.
To reserve a seat or for additional information, please call the New Bern Historical Society at 252-638-8558. This lecture is presented by the New Bern Civil War Round Table and the New Bern Historical Society.
Submitted by: Kathy Morrison, New Bern Historical Society