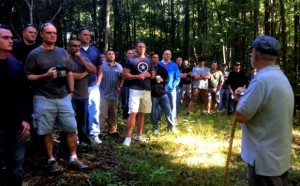 A group of 55 Marines from the Aviation School at New River visited the New Bern Battlefield Park recently as part of their professional military education program. They toured the fighting positions led by Battlefield Guides Rolf Maris, Pete Meyer, Lee Purcell, Steve Shaffer, Rod Rhoads and Rich Myers. They also went to the battlefield area at the Jaycees Fairgrounds.
The New Bern Battlefield Park is located about five miles south of New Bern, just off Highway 70 East at the entry point to the Taberna development. This unique portion of the Civil War Battle of New Bern site is preserved in its original, natural state.
The battlefield is open to the public and features a self-guided tour through the area on carefully placed paths. Visitors are able to visit six of ten well-preserved earthen redans. The battlefield's approximately 31 acres are a federally-designated site of historical significance. Private tours conducted by the guides are available by contacting the New Bern Historical Society at 252-638-8558.  School groups and other organizations are welcome.
Submitted by: Lynne Harakal, New Bern Historical Society