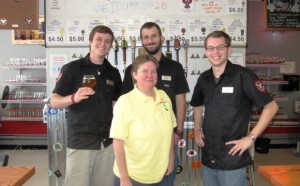 Friday December 6th: Noon – 10pm
Special program: 6:30pm
Snacks, pizza, music, darts, and the best beer in town!
For every pint sold, the beer army will donate $1 to interfaith refugee ministry to assist with basic necessities such as winter clothing, paper products, and personal hygiene items.
Come on out and support Interfaith Refugee Ministry and your local brewery.
For more information about Beer Army go to:  www.beerarmy.com.
For more information about Interfaith Refugee Ministry visit:  www.helpingrefugees.org.
Submitted by: Susan Husson, Interfaith Refugee Ministry