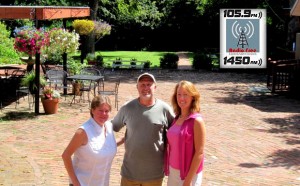 Laura Johnson enjoyed talking with Mike Lentz to find out more about the OKTober Music Festival. The interview will air on Radio Free ENC's WNOS 105.9FM and 1450AM. Listen to the audio here:
Learn more about the OKTober Music Festival here:
Isaac Taylor Garden on Oct 3, 10, 17, 24 & 31
228 Craven Street, New Bern
 Line-up of Events:
Oct 3 – Three Day Weekend
Oct 10 – 4 EverAll
Oct 17 – Bryan Mayer & Band
Oct 24 – Hot Buttered Grits
Oct 31 – Unknown Tongues Cajun Zydeco Band
FIVE Thursday Evenings in OKTober!
Enjoy Live Music, Beer & Wine, and Food by David Cook, The CookMaster's BBQ Sandwiches & Hot Wings.
$5 cover charge, Gate opens at 6pm.
R.A. Jeffreys is participating! Jack FM will be on-site! Sponsored by MJ's Raw Bar, Viamark Advertising, BearTowneTents.com, Freedom Ford Havelock, New Bern Now and Greater Good Gallery.
For details call 252-649-1712 or visit The Isaac Taylor Garden's website and Facebook page.
Information provided by: Lisa Bisbee, Greater Good Gallery
Tell us what you think by commenting below or sending an email. "Like" New Bern Now's Facebook page to follow the latest happenings!
Wendy Card