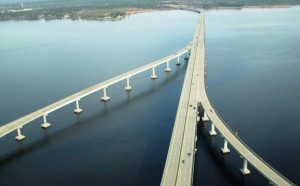 1st – 31st: Tryon Civitan Peanut Butter Drive for Religious Community Services. Drop off location is the UPS Store, 1822 S. Glenburnie Rd. For details call 252-637-7500.
18th: Be Happy, Be Healthy Expo, 4:00pm – 8:00pm at the New Bern Riverfront Convention Center.
18th: Moors and McCumber in Concert presented by the Down East FolkArts Society, 7:00pm at the Trent River Coffee Company. For details call 252-646-4657.
18th – 19th: Havelock Chilli Festival, Fri: starts at 5:00pm and Sat: 10:00am – 5:00pm. For details call 252-447-1101.
18th – 20th: Disney's "The Little Mermaid, JR", Fri – Sat: 8:00pm; Sun: 3:00pm at the Historic Masonic Theatre. Presented by RiverTowne Players's Rising Stars. For details call 252-638-2577.
19th: Neuse River Bridge Run, registration at 7:00am and events begin at 8:00pm at the New Bern Riverfront Convention Center.
19th: Girl Scouts Enchanting Waters SU Pancake Breakfast and Silent Auction, 7:30am – 11:00am at St. Andrew Lutheran Church, 1605 Neuse Blvd. For details call 252-637-5590.
19th: Pine Needle Basket Weaving Class, 9:00am – 1:00pm at Weyerhaeuser's Cool Springs Environmental Education Center. For details call 252-514-3533.
19th: Little Mermaid Princess Teas (for princesses 8 and younger), 10:30am – 11:30am and 12:30pm – 1:30pm at the Historic Masonic Theatre. Presented by RiverTowne Players's Rising Stars. For reservations call 252-633-3318.
19th: Cedar Grove Cemetery Tours, 4:00pm, 701 George St. presented by the Earl of Craven Questers. For details call 252-635-1374.
19th – 27th: Coastal Carolina Agricultural Fair at the Craven County Fairgrounds. For details call 252-636-0303.
There also all kinds of fun activities to include something to do for all ages!
Visit the local Art galleries and shops to admire the vast array of art on display by local Artists.
Check out Amusements to learn about fun and games. Some examples are miniature golf, rollerskating, playing bingo, bowling, and much more!
Relieve some stress by working out at the local Fitness Centers.
Learn about New Bern's 302 years of History by taking a professionally guided or self-tours and visit the many historical landmarks.
Spend some time at the New Bern – Craven County Library, read a book, use the computer, and better yet, take some FREE computer classes!
Get some fresh air by taking a walk in the park. Your kids will have a blast at the local playgrounds and water park. Your dog can play with others in the "dog park". Thanks to the City of New Bern's Parks and Recreation and Craven County Recreation and Parks there are over 20 parks, a community resource center, two recreation centers, an aquatic center complex, and a spray park in our community. They also organize numerous events and classes throughout the year.
Enjoy a Night on the Town by attending a live performance, singing Karaoke or dancing, or watching a movie at the box office.
Get back to nature by visiting Outdoor Recreation and see the hotspots for biking, boating, camping, fishing, golfing, hiking, hunting, tennis, scuba diving, etc.
Enjoy a stroll through the New Bern Farmer's Market. The locals gather here on the weekends to shop for arts and crafts, food, and many other unique gifts. They even have live bands throughout the year.
What are you doing this weekend?
Tell us what you think by commenting below or sending us an email. Visit New Bern Now's Facebook page or sign up for the latest updates by submitting your email address in the right margin on New Bern Now's website.
Wendy Card