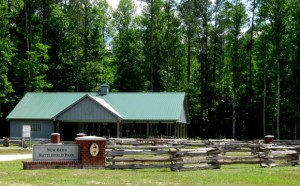 A group of 15 young men, all students at the Epiphany School of Global Studies and led by teacher Jon Fitzgerald, came to the New Bern Battlefield Park recently as part of their annual "Odyssey Days" program focusing on community service. The students were given a tour of the battlefield, a demonstration of the use of the drum in the civil war by battlefield guide Rolf Maris who was dressed in a Union soldier's uniform, and spent the rest of the morning constructing wooden benches for use throughout the battlefield. Guide Pete Meyer had previously gathered the materials for the benches, drew up their design, constructed a bench to serve as a model, drew up detailed plans for the students, and pre-cut, pre-drilled, and marked each piece of wood so that the students would have a ready-to-be-assembled bench kit. The students were able to finish constructing seven new benches and were very proud of their work; each student signed their name on the bottom of their bench! Pete Meyer really deserves great kudos for his hard work in providing a meaningful day for the students as well as providing much-needed benches for visitors to the battlefield.
The New Bern Civil War Battlefield park is located about five miles south of New Bern, just off Highway 70 East at the entry point to the Taberna development. This unique portion of the civil war Battle of New Bern site is preserved in its original, natural state.
The Battlefield is open to the public and features a self-guided tour through the area on carefully placed paths developed by the Guides. Visitors are able to visit six of ten surprisingly well-preserved earthen redans. The Battlefield's approximately 27 acres are a federally-designated site of historical significance, owned by the New Bern Historical Society. Tours conducted by the Guides are available by contacting the New Bern Historical Society at 252-638-8558. School groups and other organizations are welcome.
Submitted by: Amy Hammond on behalf of the New Bern Historical Society