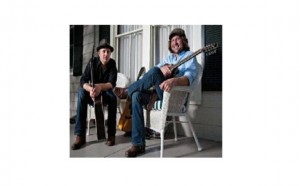 Friday, October 18 – Trent River Coffee Company, New Bern
Saturday, October 19 – Clawson's Restaurant, Beaufort
Although each has been recognized as an accomplished singer/songwriter on his own, this is truly a case where the duo together is more than the sum of its parts. Wisconsin and Colorado join in a fusion of blues and bluegrass, celtic and folk with these two talented artists.
James Moors and Kort McCumber often change instruments with every song, bringing guitar, mandolin, bouzouki, cello, harmonica, fiddle and more into the mix. Their Americana stylings are made exceptional by the blend of their harmonies and exquisite instrumentation.
Our intimate venues are the perfect setting to kick back and enjoy this warm and engaging duo!
Tickets are $15 general, $12 members and active military, $8 students. Reserve ahead by texting or calling 252-646-4657, or see www.downeastfolkarts.org for more information.
Submitted by: Linda McGowen, Down East FolkArts Society