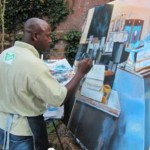 Last night was jam packed with fun-filled activities for everyone! What a night! We started out at the Isaac Taylor Garden and Greater Good Gallery (New Bern Now's Corporate Office) where artists gathered to demonstrate their creative skills and residents/visitors joined them to admire their work.
We wandered to Pollock Street greeting friends along the way and stopped in to see Lou Plummer's special exhibit at Carolina Creations Fine Art and Contemporary Craft Gallery.
Our next stop was New Bern Artworks & Company's Fine Art Gallery to admire their "No Boundaries Exhibit".
As you've noticed in the previous post, we couldn't help but watch and video "Stomp Out Genocide" Flash Mob presented by the Arts to End Genocide Foundation.
We really wanted to visit all the venues, but it wasn't physically possible to cover everything in three hours!
Learn more about the latest arts event – ArtCrawl presented by the Community Artist Will, the second Friday of every month
Did you attend any of the events?
Tell us what you think by commenting below or sending us an email. Visit New Bern Now's Facebook page or sign up for the latest updates by submitting your email address in the right margin on New Bern Now's website.
Wendy Card