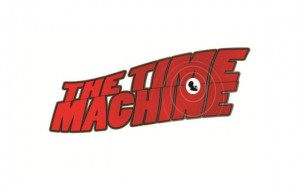 Sponsored by Potash Corp
Stage play by Jay Tyson and Keith Boyd Based on the novel by H.G. Wells Directed by Jay Tyson and Produced by Karen Pierson
August 2, 3, 9, 10 at 7:30pm and August 4, 11 at 2pm
The Time Machine is the story of a scientist from the 19th century who builds a fantastic machine that hurtles him through the fourth dimension into the fantastic future world in the year 802,701. There our time traveler finds the human race has split into two factions, the lovable childlike Eloi and the cruel cave dwelling Morlocks. He must fight this future world and the horrors and dangers within it to escape the Morlocks retrieve his time machine and rescue Wenna the Eloi he befriends. He then pushes farther into the future to witness the death of our sun and the end of Earth itself. So sit back take a breath and witness the future LIVE ON STAGE!!
The Time Machine is a production with puppets and real people together on stage. The puppets were designed and built by former Jim Henson Muppet performer Jay Tyson and his puppet company Doctor Puppet. Visit  www.drpuppet.com for more puppet information.
Group rates are available. Photo opportunities are available before or after the show with the puppets and the Time Machine.
The Time Machine will carry you to the fantastic future world of man in the year 802,701!
Tickets: $12 in advance, $14 at door, $10 for Students and Active Duty Military with ID*
Tickets can be purchased by calling the box office at 252-633-0567 or by ordering online at www.newberncivictheatre.org. Visit us at www.facebook.com/newberncivictheatre.org
Call 252-634-9057 for more information.
Submitted by: Gayle Albertini on behalf of the New Bern Civic Theatre