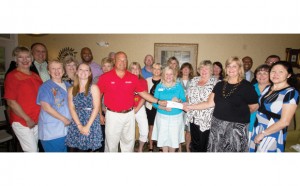 Craven County Partners In Education was recently awarded $500 from the New Bern Business Referral Network.
The New Bern Business Referral Network is made up of local businesses of high integrity representing different fields of endeavor that are limited to only one member from each field of business. The monies awarded will be used to purchase an ELMO and other needed supplies for the entrepreneurial classroom under Mr. Keith Cayton at New Bern High School.  This will allow Mr. Cayton to offer creative and innovative entrepreneurial programs designed to inspire his students.
When your organization makes a gift, they become a partner… and each year we have seen the difference our partnerships make in Craven County classrooms.
If would you like to learn how your organization can make a difference to a teacher in the classroom, please contact Darlene Brown, Partners In Education, at 514-6321.
Submitted by: Darlene J. Brown, Executive Director, Partners In Education