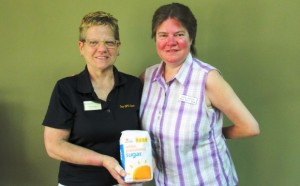 Laura Johnson had the pleasure of interviewing Pat Drake, President of the Tryon Civitan Club about their sugar drive during the month of June. Listen to the radio interview here:
The Tryon Civitan Club in conjunction with the UPS Store is having its 6th annual sugar drive to benefit the Religious Community Services (RCS).
RCS uses an estimated ton of sugar every month. Last year they collected almost 2,300 pounds of sugar.
Their goal this year is to collect 2,500 pounds during the month of June. Summertime kids are out of school and needing cool aid or ice tea and families using sugar from RCS's food pantry for recipes.
If you don't want to give sugar, they will take any kind of non-perishable food items to help families in need. From peanut butter and jelly, SpaghettiO's and all sorts of things that RCS can use in their food pantry.
You can also make a financial contribution directly to Religious Community Services.
Make a difference by dropping off sugar or non-perishable food items at the UPS Store at 1822 S. Glenburnie Rd. 252-637-7500.
Special thanks to Pat Drake and the Tryon Civitan Club for all you do for our community. Thanks, Laura, for all your hard work providing "community radio segments" on Radio Free ENC's WNOS 105.9FM and 1450AM.
Tell us what you think by commenting below or sending us an email. Visit New Bern Now's Facebook Page.
Thanks for visiting New Bern Now!
Wendy Card