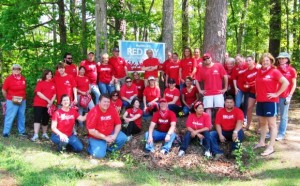 Keller Williams Realtors closed their doors on RED Day on May 9th to rehabilitate the Croatan Animal Rescue and Sanctuary, now known as Home at Last Animal Foundation.
Team Leader, John Hoops, was happy to announce that 36 people turned out for Keller Williams' "Give where you live" project. Keller Williams Realtors and their spouses came out to make a difference in our community!
They Renewed, Energized, and Donated their time by painting and doing yard work on acres of land (raking, burning leaves, mowing, weed whacking, and more)!
I've heard about the Croatan Animal Rescue and Sanctuary and Home at Last Animal Foundation, but I had no idea how much they help our furry friends! If it wasn't for Realtors Jennifer Johnson and Kathy Richey for telling me about this year's project, I wouldn't have learned more about the animal rescue organizations. Stay tuned as I plan on writing about their efforts in a future article.
Keep up the great work, Keller Williams Realtors!
For more information about Keller Williams Realty, please visit them at 1915 Trent Blvd., call them at 252-637-2010 or visit their website: http://kwnewbern.yourkwoffice.com.
Tell us what you think by commenting below or sending us an email. Visit New Bern Now's Facebook page or sign up for the latest updates by submitting your email address in the right margin on New Bern Now's website.
Wendy Card