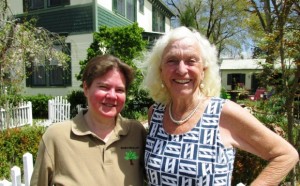 Carolyn and Charles Peterson are excited to announce an entertaining line-up of events scheduled for May 18 – 19, 2013 to raise funds for New Bern Cares to Cure Neurofibromatosis.
Curing Neurofibromatosis hits home for the Peterson's as their granddaughter, Natalie, is fighting this horrible disorder.
Last year they welcomed guests into their historic home and garden for a very unique Fun-Raiser as their son and Natalie's father, Michael Peterson, would match the money if they raised $20,000, and they did!
This year they are very excited about two unique fundraising events! Laura Johnson had the pleasure of interviewing Carolyn Peterson for New Bern Now's "community segment" airing on Radio Free ENC's WNOS 105.9 and 1450AM:
Bones in New Bern – Meet and Greet, May 18, 2013:
Where The Wild Things Are Benefit, May 19, 2013:
The first event will be "Bones in New Bern" Meet and Greet with their son, Michael, who's the Supervising Producer and Writer for the Television series Bones. Bestselling Author, Kathy Reichs, will be joining us, as some of her books were based on the Bones TV series. She's a producer for the television series and also has a PhD in Physical Anthropology as it's illustrated in her writing.
Get your tickets for the Book Signing and Meet and Greet on May 18, 2013, 4:30pm – 5:30pm at Christ Church Ministry Center, 230 Middle St.! Costs are $22 in advance and $25 at the door. You can purchase tickets at the Next Chapter Book Store on S. Front St. or at the New Bern Farmers Market on May 11.
The fun continues with "Where The Wild Things Are" 2nd Annual Fundriaser for the Children's Tumor Foundation on May 19 from 5:00pm – 7:00pm at the North Carolina History Center!
Carolyn encourages people to "Come out and join in the fun of animal-themed songs performed by some of the area's best musicians: JP Andrews, Laura Arias, Jeff Bashford, Black Oak Guitar, Craven Brass Quintet, Bryan Jones, Andrea and Phil Owens, Michelle Roys, Rip Taggart, John Van Dyke, and dance to the sounds of the Tone Pedlers"!
"The adventure includes: book signing by Kathy Reichs, Bernie the Bear and Natalie Peterson, Jungle Meat and Juice (food and drink provided by Tommy Moore's BBQ), and a silent auction".
Tickets are $25 and must be purchased in advance at: Mitchell Hardware, 215 Craven St., UPS Store, 1822 S. Glenburnie Rd., CarolinaEast Foundation in the O'Marks Building on Middle St., or call 252-636-0408. Please make checks payable to: CTF Children's Tumor Foundation.
"All proceeds go to the Children's Tumor Foundation. For more information on Neurofibromatosis, visit the Children's Tumor Foundation's website: www.ctf.org.
Special thanks to Carolyn Peterson for sharing information about these special events for a terrific cause! Check out the New Bern Cares to Cure Neurofibromatosis Facebook page.
On a personal note, I began reading Kathy Reichs books during my three year tour on the USS Germantown. Although I loved being at sea, her stories helped me get through some very trying times and I can't wait to meet her! Get your tickets today before they sell out!
Tell us what you think by commenting below or sending us an email. Visit New Bern Now's Facebook page or sign up for the latest updates by submitting your email address in the right margin on New Bern Now's website.
Wendy Card