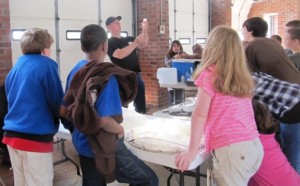 Earth Day Ceremony at Union Point Park – April 15, 2013 at 11am
Less Means More, Craven County's Water Conservation initiative is sponsoring 2013 Earth Day education activities for 5th grade students on April 10, 11, and 12.
All activities take place at the New Bern Farmer's Market, with the morning sessions from 9:00 am to 11:00 am and the afternoon sessions from 11:45am – 2:00pm.
Six area schools will participate in either a morning or afternoon session: WJ Gurganus, Epiphany, Vanceboro Elementary, Oakes Road Elementary, Graham Barden, and Creekside Elementary. The students will rotate through 5 stations and learn about water systems, conserving water inside, conserving water outside, water quality, and composting. 2013 is the 6th year that these Earth Day education sessions have been offered to the schools and they have been popular with the students. Teachers are encouraged to discuss conservation issues with their classes and are provided with follow-up materials to assist in the process.
The Less Means More committee would like to recognize Craven County, the Craven County Schools, Maola and Chick Filet for their continued support of this project. Less Means More is a grass roots, volunteer effort with a mission to promote appropriate conservation and good stewardship of the environment.
On Monday, April 15, there will be a ceremony at 11:00am at the gazebo in Union Point Park to read proclamations from the city and county and to recognize local businesses for their conservation efforts. Businesses selected for 2013 are Maola and Moen.
Submitted by: Linda Staunch, Less Means More Committee