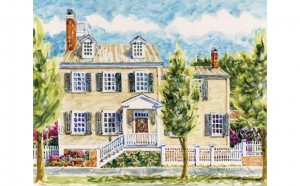 On April 12 and 13, New Bern homeowners will open their doors to the public to visit some of the most beautiful and interesting homes in New Bern's historic district.
The 2013 Spring Historic Homes & Gardens Tour will provide a behind-the-scenes look at homes and gardens that are important to our town's past and present.
Patrons will tour the living quarters of these homes, learning about the original architecture, renovations and furnishings. This year a number of the gardens will feature musicians and artists. Many historic buildings which house a church or synagogue will also be open for tours.
Advance tickets: $15 at New Bern Historical Society, New Bern Preservation Foundation, Bank of the Arts, Carolina Creations, Harris Teeter of New Bern, Mitchell Hardware and New Bern Riverfront Convention Center. For phone orders, call 252-638-8558.
This is a collaborative event presented by the New Bern Historical Society, 252-638-8558 and the New Bern Preservation Foundation, 252-633-6448.
Submitted by: Nancy Hill