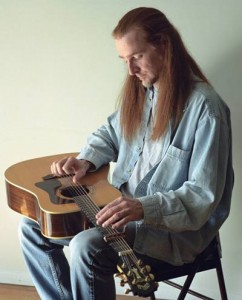 Friday, April 12 – Trent River Coffee Company, New Bern
Saturday, April 13 – Clawson's Restaurant, Beaufort
Listen to New Bern Now's Laura Johnson's audio about the concert aired on Radio Free ENC's WNOS 105.9FM and 1450AM:
Born in the United States, but raised in numerous countries around the world, Pat Wictor is truly a world citizen. Pat worked his way through rock, heavy metal, and jazz before beginning his career as a singer/songwriter in the very loose genre known as folk. While he can finger-pick with the best, the slide guitar is often what people remember most.
His performances are equal parts fireside chat, meditation, and foot-stomping blues, and his audiences invariably leave with a smile on their faces. Shows begin at 8:00, doors open at 7:00 p.m. Tickets are $15, $12, and $8 and can be bought at the venues, at Bank of the Arts in New Bern, or reserved by texting 252-646-4657.
For more information, see www.downeastfolkarts.org.
Submitted by: Linda McGowen, Down East FolkArts Society