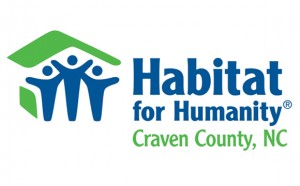 Habitat for Humanity of Craven County will host students from 4 colleges during spring break. Throughout the month of March, students will spend their spring break in New Bern, building a home for a Craven County family in need of affordable housing. The four groups from the University of Pennsylvania, Fisher College (Boston, MA), Franklin W. Olin College of Engineering (Needham, MA), and the University of Delaware, are participating Habitat for Humanity's national alternative break program, Collegiate Challenge.
"I am truly humbled that these young people would choose to come serve alongside us and help the people of Craven County" says Executive Director, Mark Beard.
For the past 24 years, more than 208,000 students have spent their school breaks volunteering across the country through Habitat for Humanity's Collegiate Challenge program, donating more than $20 million to Habitat affiliates.
"We're grateful to Habitat for Humanity of Craven County for hosting the students as part of Collegiate Challenge," said Jenn Skudlarek, Habitat for Humanity International's manager of U.S. volunteer programs. "Their work together makes a meaningful difference and will have a lasting impact in communities across the country."
The Collegiate Challenge program is one of the many programs Habitat has to engage youth ages 5 to 25 in Habitat's work. In addition to the ongoing support State Farm® offices provide to local Habitat affiliates across the United States, State Farm has served as the national corporate sponsor of Habitat for Humanity's youth programs since 2007.
Since 1989, Habitat for Humanity of Craven County has changed the lives of 54 families In Craven County, and 40 families internationally. The organization opens the door to homeownership by providing homes for sale through no interest loans to families who qualify. Homeowners are required to work at least 200 hours on the construction of their home. Habitat for Humanity of Craven County has participated in the Collegiate Challenge since the spring of 2000.
About Habitat for Humanity International
Habitat for Humanity International is a global nonprofit Christian housing organization that seeks to put God's love into action by bringing people together to build homes, communities and hope. Since 1976, Habitat has served more than 600,000 families by welcoming people of all races, religions and nationalities to construct, rehabilitate or preserve homes; by advocating for fair and just housing policies; and by providing training and access to resources to help families improve their shelter conditions.
For more information about Habitat, to donate or to volunteer, please visit cravencountyhabitat.org.
Submitted by: Suzanne Stewart, Resource Coordinator, Habitat for Humanity of Craven County