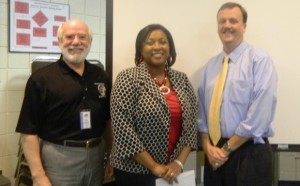 The Craven County School System is continuously challenged with keeping up with the latest technology in the classroom.
Teaching 21st Century skills without the appropriate resources is very difficult. To address this area of concern, Partners In Education created the Technology Matching Grant Program and we are pleased that PotashCorp continues to be a partner by funding this grant. The winner of the 2012-13 PotashCorp Matching Technology Grant is: Trent Park Elementary School in the amount of $2,473.25.
Visit our website at http://cravenpartners.com/ and Like us on Facebook.
It is the relationship that develops between our partners in the community that truly leads to the success of our students. An investment in Partners In Education is an investment in our workforce, our community, and our future.
Submitted by: Darlene J. Brown, Executive Director, Partners In Education, 3600 Trent Road, New Bern, NC 28562