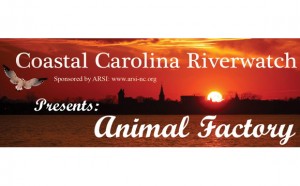 Sponsored by Alliance for a Responsible Swine Industry (ARSI)
You're invited to a public forum on the public health and environmental consequences of industrial meat production in eastern North Carolina.
Join us as we hear what our nation's leading scientists have learned through their research.
It's not just about problems. It's about solutions, the kind you can help to achieve.
Distinguished Speakers:
Dr. JoAnn Burkholder, Ph.D., William Neal Reynolds Distinguished Professor, NCSU
Dr. Michael Mallin, Ph.D., Research Professor, Center for Marine Sciences, University of North Carolina at Wilmington
Dr. Steve Wing, Ph.D., Associate Professor of Epidemiology, University of North Carolina at Chapel Hill
Where: Bern Room, Bridge Pointe Hotel, 101 Howell Rd., New Bern
When:  Saturday, March 9th, 2013 from 1:30 – 3:30pm
Sponsored by: Coastal Carolina Riverwatch Citizens fighting to protect water, air and communities, 1305 Country Club Rd., New Bern, 252-514-0629.
Submitted by: Rick Dove, Alliance for a Responsible Swine Industry