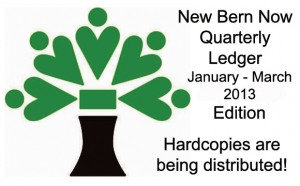 Have you picked up your hard copy of the New Bern Now Ledger – 20 page Area Guide for January – March 2013! The information in the Ledger was created by the people in our community, so it's not designed as a "Tourism Guide". Both residents and visitors can learn from the Ledger. We're also happy to announce this is the 11th quarterly Edition!
If you'd like a hard copy, they are/will be available at the following Sponsor Locations:
Aerie Bed and Breakfast, Guest House and Conference Center, 509 Pollock St., 636-5553
C. Foy Tonsorial Parlor/Barber Shop, 309 Middle St., 636-2369
Carolina Creations Fine Art and Contemporary Craft Gallery, 317-A Pollock St., 633-4369
Coastal Carolina Regional Airport, 200 Terminal Dr., 638-8591
Coldwell Banker Willis – Smith Real Estate, 115 Middle St., 638-3500
Garris Evans Lumber Company, 425 Garner Rd., 672-8760
Go Architectural Design, 1202-A Pollock St., 633-0322
Griffin & Tilghman Printers, 2607 Trent Rd., 633-2227
Kincaid Family Dentistry, 635 McCarthy Blvd, 636-0011
Dennis Leoni, Robinson and Stith Insurance, 513 Pollock St., 633-1174
Lucky Street Tattoo Studio, 1201-A Hwy 70E, 636-0333
Mitchell Hardware, 215 Craven St., 638-4261
New Bern Artworks & Company, Studio and Gallery, 323 Pollock St., 634-9002
New Bern Civic Theatre, 414 Pollock St., 634-9057
Realtor Linda Wahnsiedler, Trent River Realty, 333 Middle St., 633-1482
Studio Verve, 2507 Neuse Blvd., 514-2655
Thurman Road Service Center, 3923 Old Cherry Point Rd., 637-7166
Twice as Nice Upscale Consignment Boutique, 224 Craven St., 633-4432
We appreciate the support of the following sponsors support:
James Arthur Construction, 2607 Trent Rd., 638-8129
Masterful Dog Training with Dona Baker in-home and at Jill's Pet Gallery, New Bern, 672-5933
Thea's Ideas, New Bern, 636-2628
W. Lease Perspectives Contemporary & Fine Art Digital Photography, New Bern, 559-0667
Hardcopies are/will also be available at various locations throughout the Greater New Bern area:
The Accidental Artist, 219-A Craven St.
Bank of the Arts, 317 Middle St.
Beads-N-Bowls, 220 Craven St.
Bear Essentials, 309 Middle St.
Bear Towne Java, 323 Middle St.
The Bethlehem Shop, 2686 Dr MLK Jr. Blvd.
Bill's Pet Shop, 2686 Dr MLK Jr. Blvd
Branch's Furniture, 309 Pollock St.
BridgePointe Hotel, 101 Howell Rd.
The Boathouse of New Bern, 220 Middle St.
Comfort Suites, 218 E. Front St.
Craven Animal Hospital, 1003 Hwy 70 E.
The Doubletree by Hilton, 100 Middle St
Fairfield Harbour POA
Fairfield Harbour Recreation Center
Guildfield Missionary Baptist Church (Select hours: Sun – Mon)               Havelock Chamber of Commerce and Visitors Center
Juliette's Boutique, 236 Middle St., 514-9800
Lou's Florist, 233 Middle St., 636-3484
New Bern Area Chamber of Commerce, 316 S. Front St., 637-3111
The New Bern/Craven County Library, 400 Johnson St.
New Bern KOA, 1565 B. St., Bridgeton, 800-562-3341
New Bern Riverfront Convention Center and Visitors Center, S. Front St., 800-437-5767
New Bern Tours and Convention Services, 333 Middle St., 637-7316
North Carolina History Center, S. Front St., 639-3500
The Pepsi Store, 256 Middle St., 5898
Poor Charlie's Antique and Flea Market, 208 Hancock St., 672-0208
'R Garden Booth at the New Bern Farmers Market, 633-0043
Resort Management Group, 475 Broad Creek Rd., 638-8011
River Bend Library
Trent River Coffee Company, 208 Craven St., 514-2030
Vacation Resorts International, 1141 Broad Creek Rd, 633-1151
The above locations are only some places where the Ledger is available. If you'd like to distribute hardcopies, please contact us via email or give us a call at 252-638-6858 and we will add you to our distribution list.
The Ledger is also available in color with links to websites online.
The Ledger is a "mini-version" of New Bern Now's "Community" website. We welcome your community announcements and/or any information that may benefit readers on a daily basis.
We create each quarterly Ledger by selecting unique information that we've gathered from the previous quarter and from press releases that we receive before the Ledger's deadline. This also includes information for the community calendar so you don't have to submit it more than once.
Deadlines for submissions and advertisements is: April 15, June 15, Sept 15, and December 15.
The website's Calendar of Events is updated a number of times a week and we try to post articles/announcements to the blog on a daily basis.
Special Thanks to Griffin & Tilghman Printers, Inc. for their terrific and speedy services!
I would also like to thank everyone in our community for sending information to NBN. Without your support, the Ledger and the website wouldn't exist!
Please feel free to make any comments or suggestions below or send me an email on how I can improve the quarterly publication and website. Visit New Bern Now's Facebook page and "press Like" if you'd like to find out about the latest happenings!
Wendy Card