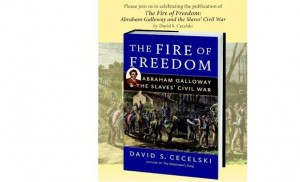 Listen to Laura Johnson's interview with local historian, Nelson McDaniel, about the upcoming event on WNOS Talk News 1450AM and 105.9FM:
Historian David Cecelski, who details the extraordinary life of an American original in his book, The Fire of Freedom:  Abraham Galloway and the Slaves' Civil War, will speak on the life of Galloway at St. Peter's AME Zion Church Sunday, February 3rd at 3:00pm.  There will be a book signing following the event. The book is published by the University of North Carolina Press (September 2012).
Abraham Galloway spent his brief life fighting slavery and injustice, as a leader of men, Union Army spy, and North Carolina state senator.  Galloway was born into slavery in 1837 escaping in 1857 by hiding in the hold of a ship transporting turpentine north.  He quickly became involved with some of the most militant abolitionists in North America and enlisted as a Union spy.
Galloway traveled wherever he was needed to advance freedom and justice including New Bern , NC. While in New Bern he was instrumental in organizing numerous regiments of United States Colored Troops.  He was a whirlwind of political organizing and activism, in command of an insurgent force, and the hearts of the enslaved and freedmen.
After the war, Galloway was overwhelmingly elected to represent New Hanover and Brunswick counties in the North Carolina senate by black and white voters. Galloway died unexpectedly at the age of 33 in Wilmington.
David Cecelski spent 10 years completing meticulous detective work to uncover this story lost to history.  Hosting this lecture are the University of North Carolina Press, New Bern Historical Society, Tryon Palace African-American Programs Advisory Committee, St. Peters A.M.E. Zion Church, Emancipation Proclamation Celebration Committee and James City Historical Society.
For information regarding this free lecture, please contact the New Bern Historical Society at 252-638-8558.
Submitted by: Kathy Morrison, New Bern Historical Society, 511 Broad St., New Bern, NC 28560, 252-638-8558