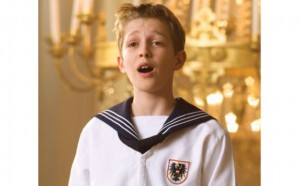 Sunday, March 3, 2013 at 3 p.m.
The world famous Vienna Boys Choir will perform March 3, 2013 at the New Bern Riverfront Convention Center as the fourth in the Legends in Concert series from the New Bern Historical Society.  This exciting concert is a once in a lifetime opportunity for many New Bernians. In anticipation of the Christmas gift-giving season, the first 100 people purchasing tickets will receive their tickets in a beautifully hand crafted gift envelope with handcrafted gift tags made in collaboration with Creative Memories.
In 1498, more than half a millennium ago, Emperor Maximilian I moved his court and his court musicians to Vienna. He gave instructions that there were to be six singing boys among his musicians. Historians have settled on 1498 as the foundation date of the Vienna Hofmusikkapelle and in consequence the Vienna Boys Choir. Until 1918, the choir sang exclusively for the imperial court, at mass, at private concerts and functions, and on state occasions.  Since then, the choir has performed for royalty and commoners alike.
Today there are approximately 100 choristers between the ages of ten and fourteen, divided into four touring choirs. The four choirs present 300 concerts and performances each year in front of almost half a million people. Each group spends nine to eleven weeks of the school year on tour. They visit virtually every European country, and they are frequent guests in Asia, Australia and the Americas.
You will not want to miss this concert and neither will your friends!  Tickets go on sale November 15. General admission ickets are $35 through February 15, 2013, then $40.  Active duty military and their dependents are $30, children and students, $25.  VIP/Sponsor front and center seating is also available at $125 per seat, and Preferred seating is $55 through February 15, 2013, then $60. Tickets are available at the New Bern Historical Society, 252-638-8558 or www.NewBernHistorical.org.
Submitted by: Kathy Morrison, New Bern Historical Society