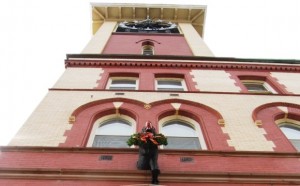 Laura Johnson visited Colleen Roberts, Public Information Officer, for the City of New Bern to talk about Christmastime at City Hall.
Listen to the interview aired on Radio Free ENC's WNOS 105.9FM and 1450AM:
City Hall and Downtown New Bern is flourishing with Holiday wreaths, boughs of holly, and much more!
City Hall is decked out for the Christmas Holiday Season! Colleen Roberts was excited to tell us that local residents and visitors are enjoying photo opportunities at City Hall.
The bear statue below the Swiss Clock Tower is even decorated for the holidays.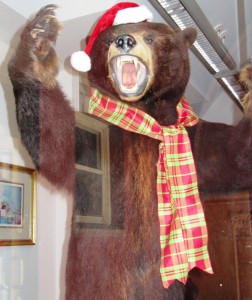 Looking through the window on the first floor of City Hall, you will see an actual stuffed black bear.
It's a beautiful time of year for a stroll Downtown New Bern to enjoy many shopping and dining opportunities!
The City of New Bern is attracting locals and visitors with the beautiful decorations, wreath contests, Bernie Bear Christmas among the latest happenings.
Stop by City Hall and have your photo taken in front of the Christmas tree, faux fireplace, among other decorations in this beautiful, historic building!
Special thanks to Colleen Roberts for spreading Christmas cheer! We encourage visitors and residents alike to visit City Hall.
Visit the New Bern City Hall at 300 Pollock St. They are open Monday – Friday from 8:00am – 5:00pm. Stop by and say hello. For more information please visit the City of New Bern's website and Facebook page.
Please feel free to comment below or send us an email. Don't forget to visit our Facebook page.
Wendy Card