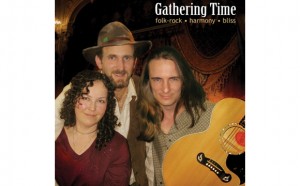 Friday, January 11   Trent River Coffee Company, New Bern
Saturday, January 12    Clawson's Restaurant, Beaufort
If you love the three-part harmonies of Crosby, Stills, and Nash, you should not miss Gathering Time. This trio from Long Island has created a blend of guitars, voices, and light percussion to create a wall of sound that delights the ears. Their original songs show influences of such bands as the Eagles and the Byrds, and the classics they sprinkle in among their own songs draw raves from their audiences.
Enjoy the smooth guitar mastery and blending of voices that is perfection when Glen, Hillary, and Stuart take the stage.
Tickets are $15 general, $12 members, and $8 student. Call 252-646-4657 for reservations and information, or visit www.downeastfolkarts.org.
Submitted by Linda McGowen, Down East FolkArts Society