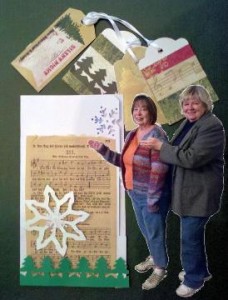 Above: Gerri Olvaney and Claudia Houston present their work for the New Bern Historical Society, a hand-crafted gift envelope and 4 gift tags to accompany your gift of Vienna Boys choir tickets.
The New Bern Historical Society will give its first 100 Vienna Boys Choir ticket buyers a special gift, thanks to two talented ladies. Claudia Houston and Gerri Olvaney, both members of the Historical Society, have collaborated to design a unique gift envelope and  hand-made gift tags.  Claudia brings her expertise from her business, Creative Memories, while Gerri adds her knowledge from a crafting and quilting background. Together they have produced a perfect way to present your Vienna Boys Choir tickets as a gift.
The world famous Vienna Boys Choir will perform March 3, 2013 at the New Bern Riverfront Convention Center as the fourth in the Legends in Concert series from the New Bern Historical Society.  This exciting concert is a once in a lifetime opportunity for many New Bernians. The Vienna Boys Choir is comprised of approximately 100 choristers between the ages of ten and fourteen, divided into four touring choirs. The four choirs present 300 concerts and performances each year in front of almost half a million people. Each group spends nine to eleven weeks of the school year on tour. They visit virtually every European country, and they are frequent guests in Asia, Australia and the Americas.
You will not want to miss this concert and neither will your friends!  Tickets are on sale November 15. General admission tickets are $35 through February 15, 2013, then $40.  Active duty military and their dependents with ID are $30, children and students with ID, $25.  (Not recommended for children under the age of 8.) VIP/Sponsor front and center seating is also available at $125 per seat, and Preferred seating is $55 through February 15, 2013, then $60. Tickets are available at the New Bern Historical Society, 252-638-8558 or www.NewBernHistorical.org. Check the website or call for outlet information. Sponsored by CTV10, Public Radio East, New Bern Riverfront Convention Center, and the Sun Journal. Be sure to be one of the first 100!
Submitted by: Kathy Morrison, New Bern Historical Society, 252-638-8558