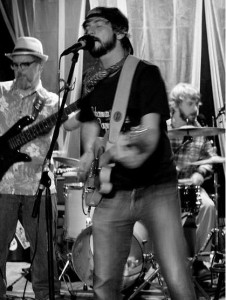 North Carolina based Americana rock band, "Nick and the Babes" will be performing at the Broad Street Social Club on November 23rd at 9pm. We will be sharing the night with Charleston SC based band "Yellowknife."
All members of Nick and the Babes and the front man of Yellowknife grew up in New Bern, NC.
We've recently split shows with Jason Isbell (Drive By Truckers), Jim Avett, Paleface, David Mayfield, Dangermuffin, Jupiter Coyote, The Heavy Pets and many other great national acts in NC's best venues and have a great draw in the area. Nick and the Babes is heavily rotated on radio stations in Wilmington, Greenville and Raleigh.
Last year at this time we were out promoting a song we did for an Avett Brothers/Ramseur Christmas album. Nick and the Babes has also released two albums on itunes and have been featured on Newsweek.com.
Not only is the band popular in NC but Nick and the Babes is led by professional television/film composer Nick Bailey. Bailey has composed for over 20 cable television shows on networks including TLC, A&E, Animal Planet, MSNBC, VH1, Nat Geo, OWN TV, Speed Network and many others.
For Nick Bailey's professional composing career please visit his Wikipedia webpage and the band's website.
Submitted by: Nick and the Babes Management