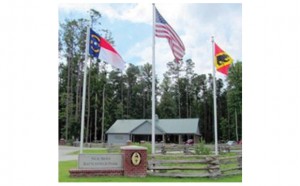 New Bern's Civil War Battlefield Park Shows the Colors
The American flag, the North Carolina flag and the City of New Bern flag now fly over the New Bern Civil War Battlefield Park. They weren't there earlier this year when the new cannon was dedicated. Adjutant Steve Shaffer told folks that we really needed to have our colors flying overhead, this year, 2012, the 150th Anniversary of the battle. Now, thanks to the generosity of Linda Lore, and the New Bern Lunchtime Rotary, those flags are now in place.  Three state-of-the-art flagpoles bearing the flags of our country, our state and our city, stand proudly at the entrance to the park.
Steve, the Battlefield Guides, Bill Rust and David Kern of A. Thompson Flags & Flagpoles worked out the intricate placement of the flag poles. An experienced crew and heavy equipment installed a 30 foot and two 25 foot brushed aluminum poles complete with lightning arrestor systems and internal halyards.  They can be seen at the entrance to the park just off Route 70, inside the entrance to Taberna. Steve believes that the placement is especially important because their location is key in the Battle of New Bern, 14 March 1862. "This is where the breakthrough was made.  This is where the blue-clad juggernaut swept through the gap in the Confederate forces."
The Battlefield is open to the public and features a self-guided tour through the area on carefully placed paths developed by the Guides.  Visitors are able to visit six of ten surprisingly well-preserved earthen redans. The Battlefield's approximately 27 acres are a federally-designated site of historical significance, owned by the New Bern Historical Society.  Tours conducted by the Guides are available by contacting the New Bern Historical Society at 252-638-8558.  School groups and other organizations are welcome.
Flags welcome visitors to New Bern's Battlefield Park
Submitted by: Kathy Morrison, New Bern Historical Society