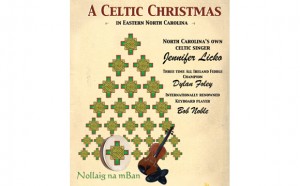 Jennifer Licko's Celtic Christmas concert series is back again for 2012! Don't miss out! This year's concert will prove to be another wonderful celebration of the Christmas season with the addition of 3 – time all Ireland fiddle champion Dylan Foley! Experience the joy and true meaning of Christmas with an evening of Celtic music.
North Carolina native, Jennifer Licko, has been acquiring fans all over the world with her lilting Celtic voice that began right here in North Carolina where many Celts settled and influenced the land of her origin.
Jennifer is now living in Minnesota and working with some well respected Irish musicians in the Twin Cities area. Dáithí Sproule of Derry, whose first group was legendary Skara Brae and is the guitar player for the Irish band Altan, has lived for many years in Minnesota. Written and performed by Altan, Dáithí brought an Irish Gaelic Christmas song to Jennifer for her to perform at this year's Celtic Christmas Concert. It is very rare to find Christmas songs in the Irish language therefore, Jennifer was thrilled to have this beautiful piece to share with her North Carolina audience.
In addition to enjoying the musical aspect of the concert, audiences will also learn about Irish traditions that are no longer celebrated in Ireland. Jennifer wrote a song about one of these traditions called 'Nollag na mBan' (Women's Christmas) which you can look forward to hearing at the concert.
Joining Jennifer is her amazingly talented producer and arranger Bob Noble. In addition to being the Keyboard player and backup singer, Noble arranged all the musical pieces in the concert. He has performed all over the world with many different artists including, but not limited to, Dexy's Midnight Runners, Aha, Joan Armatrading, Cliff Richard, Bob Geldof, Judie Tzuke and Tanita Tikaram.
As mentioned before, 3-time All-Ireland Fiddle Champion, Dylan Foley will be on stage for the celtic Christmas Concert Series. Foley was a student of the great Rose Flanagan (the original fiddler in Cherish the Ladies). He is a vibrant stylist whose playing has been called "impeccable and spirited." Dylan has played on Jay Unger's Dancing On the Air show on WAMC four times. Dylan has also performed with the John Whelan Band,Joanie Madden, Brian Conway, Mike McHale, Monsignor Charlie Coen and Dan Gurney. "One the finest Irish fiddlers of his generation." – Brian Conway.
The Celtic Christmas Concert is scheduled for December 4th and 6th at 7pm in the Cullman Hall, North Carolina History Center, New Bern.
If you were unable to get tickets last year due to sold out performances, be sure to mark your calendars and your tickets early! Ticket information is available at www.jenniferlicko.com.
Special thanks goes out to our sponsors including Emerald Isle Reality and JD Technologies and Coaching.
Submitted by: Jennifer Licko, Celtic Christmas Concert