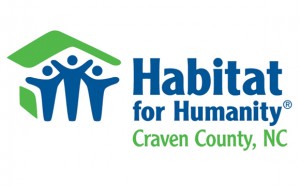 Since 1989, Habitat for Humanity of Craven County has been building homes, community, and HOPE. Habitat for Humanity of Craven County has changed the lives of 53 families locally, and 40 families internationally. We partner with hard working families to assist in the purchase of their own home.
We are currently building our 54th home at 536 Blades Ave, in New Bern.
– No experience necessary! We have a site manager on duty to show what to do.
– We welcome volunteer groups and individual volunteers.
– You do not need to commit to a set schedule. We understand that people work and have busy lives so you can volunteer as much or as little as your schedule permits.
– You must be 16 to work on the build sites.
We build during the week from 8am-12pm, Tuesdays, Wednesday and Thursdays.
For more information, please call or email Suzanne Stewart, 252-633-9599.
Submitted by: Suzanne Stewart, Habitat for Humanity of Craven County