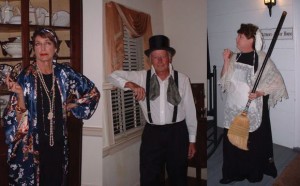 22nd Annual Ghostwalk – October 25-27, 5:30pm. – 9:30pm
Three Nights of Fun, One Price!
As night falls October 25 – 27, encounter spirited characters in their historic downtown haunts during New Bern Historical Society's annual Ghostwalk. Ghosts share stories of their mortal existence at twenty (20) sites including Cedar Grove Cemetery, Miss Gertrude Caraway's house, two historic theatres, and many other homes, churches, and businesses. Listen to tales of Civil War soldiers as you wander through their encampment on the banks of the Neuse; and be sure to visit Agony Alley, where children of all ages are entertained with thrills and games in a kid-friendly haunted house!
Hauntings begin Thursday, October 25, from 6:30pm to 9:30pm at Cedar Grove Cemetery, and the Athens and Masonic Theatres. Expect ghost sightings at the cemetery and spirited entertainment at both theatres. An additional seventeen (17) ghost sites as well as the cemetery and theatres are open Friday, October 26 and Saturday, October 27 from 5:30pm to 9:30pm.
Your Ghostwalk ticket is good for all three evenings. Tickets go on sale September 15. Tickets for adults are $15 in advance, $20 days of the event.  Active duty military, their dependents, and students with current ID are $10, children 3-12 $5, under 3 free. New Bern Historical Society members are $13. Group rates are available. Tickets can be purchased online at www.NewBernHistorical.org or at the New Bern Historical Society office at 511 Broad Street, New Bern. Also available at the following outlets:  Bank of the Arts, Harris Teeter, Mitchell Hardware, and New Bern Riverfront Convention Center in New Bern; Information Ticket & Travel Office, MCAS Cherry Point; Harris Teeter in Morehead City; and ASAP Camera in Greenville.
For more information call the New Bern Historical Society at 252-638-8558 or go to www.NewBernHistorical.org.  Find a complete list of ghost sites on the web site.
Submitted by: Kathy Morrison, New Bern Historical Society