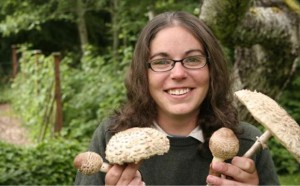 At Weyerhaeuser's Cool Springs Environmental Education Center
Mushrooms are mysterious, and the fall rains bring them out in force.
There are roughly 1.5 million species of fungi on the planet, and Kingdom Fungi is more closely related to our own Animal Kingdom than any other branch on the tree of life!
Explore the exciting world of mushrooms with a half-day foray and workshop with amateur mycologist Anna McHugh on October 25 from 9am – 1pm at Weyerhaeuser's Cool Springs Environmental Education Center.
Participants will learn all about the basics of mushroom identification – where they grow, what they eat, how they appear, and how they're an indispensable part of healthy Eco-systems.
After a brief rundown of fungal biology, the group will set forth into the Cool Springs preserve for a guided wild mushroom foray, and learn to recognize some of North Carolina's edible, poisonous and unique fungi.
To register or find out more, call Melissa Patrick at 252-514-3533 or visit Cool Springs website.
Instructor biography: Anna McHugh is an amateur mycologist and natural science journalist from Nevada City, CA. In 2011, Anna produced a public radio documentary for the Corporation for Public Broadcasting entitled Crazy About Mushrooms: Conversations with Fungus Fanatics, which has aired nationally. When she's not out in the woods searching for interesting fungi, Anna teaches classes on mushroom cultivation, identification and history. For more information, visit www.crazyaboutmushrooms.com.
Submitted by: Melissa Patrick, Cool Springs Environmental Education Center