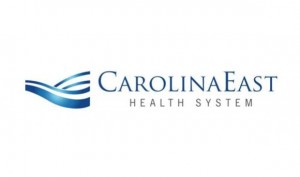 Granted Accreditation with Commendation by the Commission on Cancer of the American College of Surgeons
The Commission on Cancer (CoC) of the American College of Surgeons (ACoS) has granted Three-Year Accreditation with Commendation to the Cancer Program at CarolinaEast Health System.
The Commission on Cancer was established in 1922 by the American College of Surgeons and is a joint effort among professional organizations dedicated to improving survival rates and quality of life for cancer patients. They do this by setting standards for quality care, surveying facilities to evaluate compliance with those 36 standards, collecting data from accredited facilities and using that data to develop effective ways to improve cancer care outcomes.
There are currently more than 1,500 CoC-accredited cancer programs in the United States. That represents close to 30 percent of all hospitals. The accreditation process overseen by CoC is important because that same 30 percent of hospitals diagnose and treat approximately 80 percent of all newly diagnosed cancer patients each year.
Accreditation by the Commission on Cancer is given only to those facilities that have voluntarily committed to providing the highest level of quality cancer care. Each facility undergoes a rigorous evaluation process and performance review. Once Accreditation is received, facilities must undergo an on-site review every three years to maintain that distinction.
Physician surveyors from CoC conduct on-site evaluations at facilities wishing to receive accreditation. In order to receive Accreditation with Commendation level, the facility must demonstrate Commendation level compliance with one or more of the 36 CoC standards and a compliance level rating for all other standards. Those standards include cancer committee leadership, cancer data management, clinical services, research, and community outreach and quality improvement among others.
CarolinaEast Cancer Program met CoC's commendation level criteria for seven of the standards.  Those include outcomes analysis, quality improvements, education of cancer registry staff, prevention and early detection efforts, as well as meeting criteria and guidelines set by other agencies including the American College of Pathologists.  A dedicated, inpatient oncology unit, separate outpatient Radiation Oncology center, community outreach efforts, including annual, free screenings for common cancers, twice-monthly support group meetings for anyone affected by a cancer diagnosis, progressive treatment options and dedicated staff were also major contributors to the accreditation.
"We are very proud of our Accreditation with Commendation from the Commission on Cancer. It is a great thing not only for our facility but also for our patients." said Dr. Kyle Rusthoven, Chairman of CarolinaEast Cancer Committee.
"This distinction means that patients and their families have access to top quality care close to home, to leading edge technology, to information about that latest clinical trials and to a multispecialty team approach to their cancer care," Rusthoven added.
For more information about cancer care at CarolinaEast Health System, visit their website or call 252-633-8790.
Submitted by: Megan McGarvey, Director, Public Relations, CarolinaEast Health System