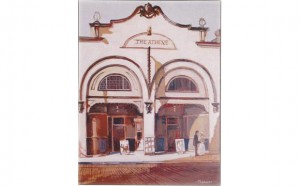 Construction began on the Athens Theatre at 412 Pollock Street in 1910. The doors opened April 11, 1911. Designed by architect Herbert W. Simpson, the Athens Theatre was a gala theatre for silent movies, Vaudeville, traveling theatre troupes and locally produced live productions.
It was regarded as one of the most beautiful and best equipped theatres in the area. A local newspaper article described The Athens as having gas-electric lights, fans to cool the patrons, elaborate interior decorations of forest green colors, velvet upholstery, ornate woodwork, chandeliers, gold gilded theatre boxes, modern dressing rooms and many other features. The original curtain was painted with the chariot race scene from Ben Hur. New Bern enthusiasts of that day once called New Bern "The Athens of North Carolina" because of its Greek revival architecture and that is where the Theatre probably got this name.
By 1929, Vaudeville and the silent movies bowed to talkies. The Athens experienced major renovations to accommodate the talkies and the new laws that were required. The ornate gilded boxes were removed, the balcony staircase relocated and a metal-lined projection booth was installed. This was a requirement for the talkie projectors.
The Theatre was renamed many times over the years – The Show Shop, The Kehoe Theatre and the Tryon Theatre. During the 1970s when many downtown businesses moved to the suburbs, the theatre seemed to languish. For a time it was vacant and deserted.
New Bern Civic Theatre (NBCT), a non-profit 501(c)3 performing arts organization, was established in 1968.  In February 1980, NBCT purchased and renovated the Athens Theatre. Many NBCT members and volunteers from the United States Marine Corps, Cherry Point, 3rd LAAM BN, accomplished a major clean-up and painted the interior. The stage was recreated, theatre seats were installed, bathrooms refurbished, walls patched, a major beam in the fly loft replaced, and new heating and air conditioning system installed.
In September 1980, NBCT presented its first live production in the new home – Star Spangled Girl, a Neil Simon comedy. In December 1981, NBCT purchased the building next door to the Athens Theatre at 412 Pollock Street known as the Athens Cafe Building. The Athens Cafe Building is used for administrative offices, daytime box office, auditions, rehearsals, meetings, and makeup and dressing rooms for the cast. It also houses lighting instruments, small technical equipment, costumes and stage props.
New Bern Civic Theatre Organization and Program History:
NBCT consists of a 12 member Board of Directors, an Executive Director, an Office Manager, and 500 active volunteers.  Our goal is to enrich, empower, include, educate, and entertain.  Although entertainment is the most visible part of our operation, it is not the most important.  It serves as a vehicle for our organization to provide enrichment through the performing arts to our community.
In 1986, NBCT created StageHANDS, a youth production that performs annually using total communication: acting, singing, dancing, and signing.  This program was developed for the hearing impaired and performs to over 3,000 school children from several surrounding counties, to include the NC School for the Deaf in Wilson.
In 2008, in an effort to increase attendance and participation from the African American community, NBCT initiated a Black History Month Celebration.  Productions have been met with great success, and have now become an integral part of the season. November 2012, NBCT will produce Dreamgirls which will feature 30 African American actors performing on stage.
In 2009, The Saax Bradbury Players were introduced and performed their first production in 2010.  This all teen program is designed to give teens the opportunity to direct, produce, market, perform, and run a production.  Through this program, our teens learn management skills, leadership, teamwork, budgeting, and creative problem solving.  These skills benefit them in any arena of life regardless if they continue on with the performing arts.
NBCT strives for continuous process improvement and each year we see the benefits of our efforts.  Our goal is to have a community theatre that produces quality shows and includes people of all ages, cultural diversities, and all tastes in theatre.
For more information please call 252-634-9057. Visit our website or Facebook page.
Submitted by: Gayle Albertini on behalf of the New Bern Civic Theatre