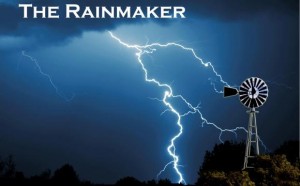 Written by N. Richard Nash
Directed by Bill Hand, Produced by Sue Baldwin
Sept. 14, 15, 21, 22 at 8pm, Sept. 16 & 23 at 2pm
Tickets:  $17 in advance, $19 at door, $10 for students and Active Duty Military with ID
Set in the West during a horrific drought, The Rainmaker focuses on a girl whose family is equally worried about her lack of suitors as they are about the lack of rain. The family tries multiple schemes to marry their plain daughter off, but to no avail. That is, until a man who claims to be a "rainmaker" arrives. Intrigued by his melodic tones and theatrical speech, the family pays him $100 if he will create rain. The rainmaker uses his skills to woo the young girl, teaching her that she has had an inner beauty all along, and with the rain also arrives love.
Tickets can be purchased by calling the box office at 252-633-0567 or by ordering online at www.newberncivictheatre.org. Visit us at www.facebook.com/newberncivictheatre.org.
Please call 634-9057 for more information.
A Samuel French Production.
Submitted by: Gayle Albertini on behalf of the New Bern Civic Theatre, 414 Pollock St., New Bern, NC