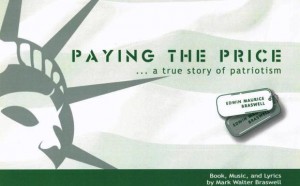 Friday and Saturday, August 3rd and 4th at 8:00 PM
Christ Church Ministry Center
311 Middle St. New Bern, NC
Ticket Price $5.00. Tickets can be purchased at "Bank of the Arts" prior to the show. Cash only tickets available at the door.
Executive Producer: Ed Braswell, Jr.
Directed by Kandy Antwine
Musical direction by Sue Williams.
Featuring Dustyn Moon, Tom Dunton, and Michelle Roys.
Accompaniment by Cristiano Rizzotto
An American soldier's fight for freedom during World War II comes alive in the dramatic musical, Paying the Price.  As a tail gunner on a B17, "Flying Fortress," we see Edwin Maurice Braswell battle his way through the skies of Europe during his many bombing missions.  When Braswell is forced to bail out of his burning plane, he is captured and becomes a POW in Romania.  Braswell and the other POW's eventually escape, after receiving caring visits from Princess Catherine of Romania.  Over sixty years later, this remarkable story is now being told on stage through the words and music of that soldier's son, Mark Walter Braswell.
Paying the Price is being locally produced and directed as part of the annual reunion of the Association of Former Prisoners of War in Romania.  Most of the POWs from that prison camp in Bucharest returned to the United States after the war and resumed old careers or began new professions. All of them have seen death and destruction, and they generally do not want to talk about their very personal understanding of war.  They do, however, love their country, and they enjoy being able to commemorate their shared experiences in their fight for freedom over 65 years ago.  As the years pass, the number of these former POWs dwindles due to death and infirmity, but the tradition continues. In the past few years, only 10 to 15 POWs have attended these annual gatherings of what is now knows as the Association of Former Prisoners of War in Romania, and most are now accompanied during the reunion by the second and third generations and even for some by the fourth generation. Although the annual reunion has usually been held in larger cities like Sacramento, Kansas City, Indianapolis, and Washington, D.C., Judge Braswell's children volunteered to host this year's reunion and to hold it in New Bern.
Both performances of Paying the Price are open to the public. Advance tickets are available at Bank of the Arts for $5.00.  Cash only tickets available at the door. During the Friday night's performance, the hero of the story and other POW's from that camp will be honored guests.
Submitted by: Kandy Antwine, Kellum Law Firm, 252-633-2550