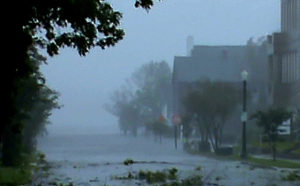 The following is an example of a Consumer Tip submitted by a local business to help viewers choose the right products and services for them.
Flood Elevation Certificates May Decrease Flood Insurance Costs
If you live in a flood zone or know someone who does, the following consumer tip may help decrease flood insurance costs. It was submitted by Southern Boundaries, Land Surveying Company, who has serviced Craven, Pamlico, Carteret, and Jones Counties for over 20 years.
"We provide Federal Elevation Certificates (FECs) to clients who live in or near Flood Hazard Zones determined by The Federal Emergency Management Agency (FEMA). The FECs identify potential flood openings that exist such as vents and doors and list the flood zone defined by FEMA's flood insurance rate maps. These certificates are required if you live in a flood hazard area."
"Many times, the homeowner believes their building is located at a higher elevation than what is defined by the federal maps. In this case, the certified land surveyor can prepare a FEC to rezone the location and allow the government to waive their requirement for flood insurance. "
"Homeowners can save money by hiring a professional land surveyor to pre-inspect their homes and advise the owner whether they need to install flood vents or make altercations to the landscape. This process may decrease flood insurance rates."
"For detailed information about the National Flood Insurance Program please contact the State Coordinator, North Carolina Division of Emergency Management, 1830-B Tillery Place, Raleigh, North Carolina, 27604, 919-715-8000.
To arrange a survey, please contact Roy R. Smith, Jr., Professional Land Surveyor and Owner of Southern Boundaries, 408 Guion St., New Bern, 252-633-2771, Southern Boundaries.
Tell us what you think sending us an email. Visit New Bern Now's Facebook page or sign up for the latest updates by submitting your email address in the right margin on New Bern Now's website.
Wendy Card